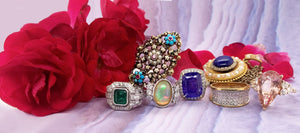 Check out our stunning new acquisitions
Online Boutique Store
Antique, Unique, Collectable & Modern Jewellery For the Discerning Buyer
In the Press
A Tribute to Vibrant history
Local Dubbo newspaper writes about our vibrant collections of antique Victorian mourning jewellery.
Read more
Testimonials
I have been a client of Leigh's for many years. In that time i purchased many unique pieces of beautiful jewellery, some modern but all bespoke. I have often taken advantage of Leigh's very generous lay-by option and have found this an ideal way to secure that special piece without breaking the budget.

B.Kruse
I have been a client of Leigh's for over 15 years now and feel so lucky to have been introduced to her, Brian and Antique and Unique Jewels! With purchases exceeding 25 pieces (yes i have counted them), i am well placed to verify this small business as my go-to fine jewellery shop.

Sandy V.
I met Leigh at a antique jewellery fair a few years ago and have been a loyal customer since. Every piece in her collection tells a story and its always exciting to see what she has found in her latest travels. The service and attention to detail is nothing short of amazing and makes every purchase a joy.

Emily C.